Mens Leather Jackets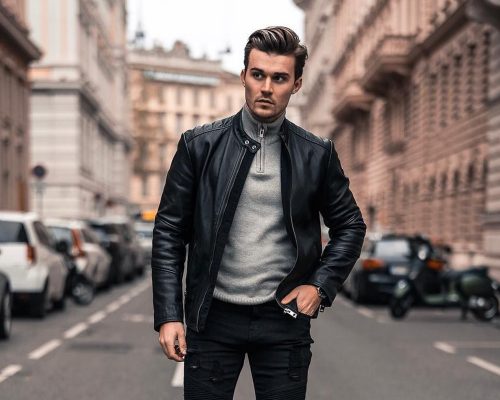 Be the style icon and create your own stunning look with the products of Paragon Jackets. As fast as the fashion industry is growing everybody wants a captivating and new design every time they shop. But when you have Paragon at your fingertips you do not have to be worried about this. We at Paragon Jackets own an extensive variety of Leather Jackets for men. All our designs are unique and meticulously made by keeping the preferences of our customers in mind.
Let us put the light on the history of leather jackets as well. Leather jackets were introduced by the very well-known designer Irvin Schott. He is one of the great designers of his time. Even today a lot of people admire his work. He was the first person who introduced leather jackets as a fashionable garment in 1928. Since then it has become the top favorite attire of gentlemen worldwide. Leather jackets are not just classy attire but it also provides great comfort to the wearer.
So if you are also looking for a mesmerizing collection of pure leather Jackets under one roof then you are surely at the right place. Go beyond the limits of society's fashion and add to your carts which leather jacket you like to wear.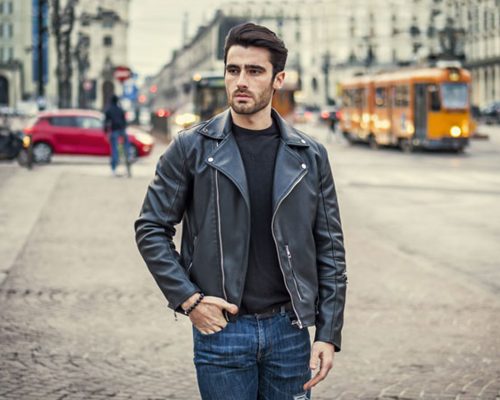 No doubt that there are enormous options that are available for the men to wear but their preference always is on the leather jacket side. And even in the categories of leather jackets Mens Black Leather Jackets always win for the majority. You can layer it up with any darker shade shirt and chinos and add more classiness. You can wear joggers with the look. This look can be opted for sure to slay at any party.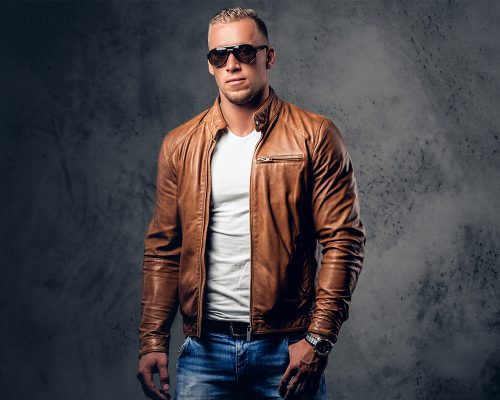 If you are not a black lover then that does not mean that we do not have anything for you in the category of leather jackets. You can drape yourself in the Brown Leather Jackets for mens. In the beautiful collection of our Mens Outfit leather category, you will witness many stylish and classy brown leather jackets.
Along with the great variation in the colors of the Leather Jackets for men, there is a broad variety in the types as well. Just like you can have a chic and lavish-looking leather jacket in the form of a Biker Leather Jacket, bomber leather jacket, leather coats, etc.
The variety you can catch up on the Paragon Jacket is Bomber Leather Jackets for Mens, Mens Aviator Jackets, Bomber Leather Jackets for Mens, Biker Leather Jacket, and a pretty extensive variety of the Leather Coats Collection for Mens.
All these jackets are available at the Mens Leather Jackets on our page. All of these are crafted with the use of premium-quality leather material that will define your divine look more precisely.
FAQs
1) Are leather jackets considered to be stylish outerwear still?
Leather jackets are considered the epitome of beauty for all gentlemen. So if you are confused in choosing the right stylish attire for a party with friends or with a chill family gathering then layer up yourself with a stylish leather jacket and make yourself stand out among all.
1) What is the durability rate of a leather jacket?
Pure leather crafted jackets are the best investment you can make for your closet. The durability rate of a leather jacket is approximately 20 to 30 years. But how you take care of them matters a lot about how long they last.
3) Are the leather jackets comfortable?
The construction of a leather jacket is done with the inner lining of different soft materials like viscose and shearling fabric. That's why they indeed keep you comfy and cozy.
4) How to style a Black leather jacket?
For the perfect combination of the black leather jacket, you can layer the attire with the combination of brown chinos and a maroon color t-shirt. This combo will definitely give a lavish look to you.
5) What is the best quality leather?
When you shop for leather jackets, always check their tag. It is crafted with Full Grain leather material without wasting time. Just go for it because it is the best type of leather that we use for manufacturing jackets.
6) How tight should a men's leather jacket be?
A leather jacket should accurately fit when you wear it. Because the leather stretches out when you wear it and if you buy a roomy jacket it would become extra loose and will not look nice one. So make sure that when you zip it up properly it feels like a properly nice fitted jacket to you.
7) What does a leather jacket say about a man?
Whatever you wear says a lot about your personality. That's why whenever we choose to wear something we should choose meticulously. When it comes to leather jackets they interpreted the grace and toughness of the men's character.
8) How many types of leather jackets should a man own?
It totally depends on you how much you like and prefer to don a leather jacket. Then according to your preferences, you can own the leather jackets.
9) Should leather jackets be a size bigger?
Absolutely a big no for this. As we have previously mentioned that leather has the capability to stretch itself so a leather jacket should never be a bigger size. So make sure that you always buy a fixed and fitted size leather jacket.
10) How much do leather jackets cost on average?
The amount range totally depends on the quality and brand's name. A classy branded and high-quality leather jacket can cost you around $300 to $2000. But again it totally depends on what and from where you are purchasing.