Womens Outfit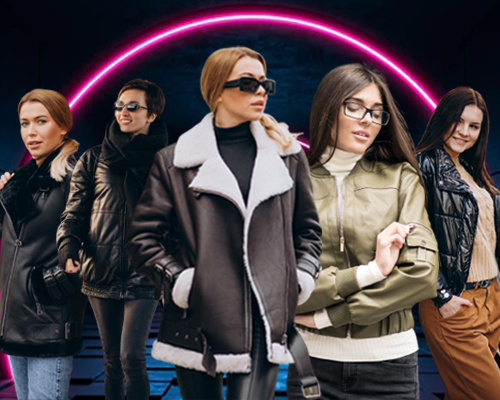 One of the main aspects of happiness for women is the classy attire that they could wear and look spectacular. But from the comfort of your couch, it used to be a rough task to do earlier. But not anymore now. Because we at Paragon Jackets have brought a phenomenal collection of attire for the dear lovely ladies out there. In our enormous Womens Outfit collection, you will witness the perfect picks for your every special and casual look. So for a dazzling look try out our apparel and be the star of the night. All of our attires are crafted with the use of premium quality fabric.
Now whether you are looking for something that is trendy or if you are searching for some ever-lasting beauties, Paragon is the right place for all. From the enchanting varieties of Women's Leather Jackets, Cotton Jackets, and Denim Jackets to the classy Trench Coats for Women we have everything.
So if these outfits are making you feel delighted, then buy them straight away without even wasting a minor minute. Remember that you can have all of them in master quality fabrication and at the best prices. So hurry up and grab the favorites now.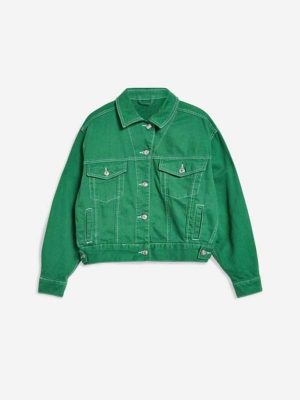 The denim fabrications come in the list of evergreen attire. No matter in which color they are, Denim Jackets will never fail to make you look outstanding. In summer, spring, or in autumn for a ravishing look, you can always choose to drape yourself in these jackets. This Women Green Jeans Denim Jacket has the most eye-pleasing look. Wear it with black chinos and minimal accessories and you are all ready to grab all the whole spotlight.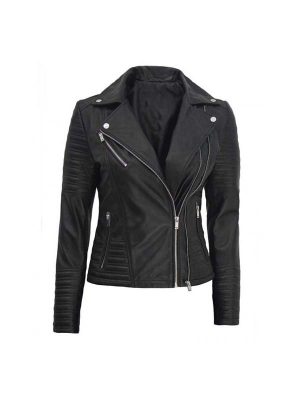 When it starts drizzling in winter and the breeze becomes colder then pick up some classy and stunning Women's Leather Jackets. These jackets are crafted with master-quality fabric. So they will give you the exact pacifying and alluring vibes altogether. Who would not love to wrap up in this Womens Black Asymmetrical Biker Quilted Leather Jacket? Be bold and look classy and grab this.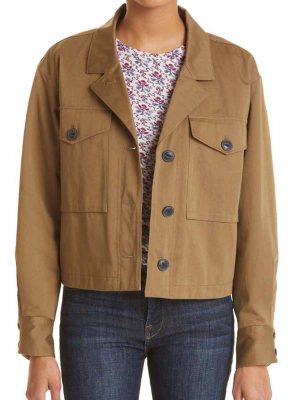 Let's continue the list of Womens Outfit and add this Womens Staple Brown Cotton Jacket. You can opt for this chic look from our Cotton Jackets collection and look incredible effortlessly. You can style it with the dark color jeans and the light shade t-shirt and boom you are looking spectacular. This jacket holds some ravishing features too just like our other jackets. So if you think this one is the right fit then just go for it right now.
Along with these categories of women attire, we also possess the collection of Trench Coats for Womens and Bomber Jackets Collection for Womens. So you can check them out as well. We have a vast range of different attires in our Womens Outfit collection. So you can always choose according to your style and desire.
FAQ's
1) What are the must-haves of every womens closet?
We strongly believe that you should wear what you like and feel comfortable in. But we would surely guide you for the women's must-haves. For a classy winter or spring look a long coat, leather jackets, and fur jackets are surely our suggestions. And just like this for summer and autumn, our recommendations are a cotton jacket or some lightweight and slightly loose outfits like shirts and tops with floral prints. You can pair them with skirts and jeans according to your comfort.
2) What is a smart dress code for Womens?
There are multiple dress codes that are considered to be smart ones. The top one on the list is the blazer with dress pants. This look doesn't only make you look classy and give you a smart look but it also gives you a bossy look. And of course, what makes us feel more confident comes in the list of best dress codes for us.
3) What is the most important part of an outfit?
Comfort and the quality of the fabric is the most important part for the majority and for us as well. That's why we never compromise on both. And indeed these are the aspects that provide you the maximum confidence to stand out in the crowd.
4) What is formal wear for a woman?
It depends totally on the situation why you are asking for this. If you are talking about the formal function of your workplace then you can go with a gown and some minimal jewelry and high heels. Or if you are talking about the formal lunch with your clients or co-workers then you can opt for the look of some nicely fitted blazer with pants and accessories with small studs and specs. And that's how you can be in the limelight with great dressing.
5) Why are choosing appropriate shoes important for a good look?
Footwear completes your look and that's why you should be specific with them as well. Remember that a pair of footwear can make or ruin your whole look. So choose them wisely.
6) What are the factors to consider when choosing an attire?
Whenever you choose an attire, always remember 3 things.
7) Whether the outfit is stylish or not?
The fabric quality. And most importantly would you feel comfortable in it? Do you like that?
If you get the right answers for the above-mentioned points then go for that outfit instantly.
8) Why is dressing well important?
Your dress sense says a lot about your personality. What you wear reflects your personality and leaves an impression of yourself on others. So always choose to wear classy and stylish attires to interpret a good image of yourself.
9) What makes an outfit classy?
A classy attire is one that does not contain any revealing aspect in that. Something that is finely stitched and has modesty in it.
10) What is the best attire for summer?
The best attires for the summer season are the ones that are light wear and have some good prints on them that makes them stylish. And if you do not like printed ones you can simply go for a cotton fabricated shirt and jeans.
11) How can I look classy in the winter?
The best way to dress in the classy look in winter is to wear jeans and a dark color shirt and layer yourself with a high-quality leather jacket. Complete your look by choosing the right pair of shoes.